The latest big news about crackdowns of gangs with international ties: "U.S. Immigration and Customs Enforcement's (ICE) Homeland Security Investigations (HSI) announced today the arrests of 678 gang members and associates from 133 different gangs during Project Southern Tempest, an intensive ICE HSI-led law enforcement operation executed in 168 U.S. cities targeting gangs affiliated with drug trafficking organizations (DTO).
Through Project Southern Tempest, ICE HSI agents worked side by side with 173 of our federal, state and local law enforcement partners to apprehend individuals from 13 gangs affiliated with DTOs in Mexico. More than 46 percent of those arrested during this operation were members or associates of gangs with ties to DTOs."
Do read the entire newsfeed;
fascinating
.
ICE's 24-hour toll-free phone number is 1-866-DHS-2-ICE.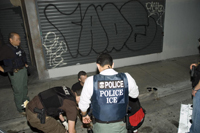 Note the graffiti