Indoctrinating children into socialism ... tsk, tsk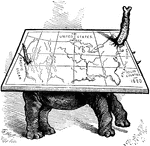 What a splendid gesture! Mike Franco, an activist-acquaintance from Massachusetts, is helping promote a pair of rallies, today, in support of Wisconsin's Governor Walker and his just cause.
He writes: "We salute American governments at all levels that do the right thing... So, stand with us in support of Gov. Scott Walker and the great state of Wisconsin.
Two rallies, Tues., Feb. 22, sponsored by area Tea Parties, 912 Projects & Liberty groups.
One in Boston and the other in Springfield from 4:00-6:00 p.m. official time. Details: Boston Site; Park Street side of the Common near corner of Beacon. Assembly at 3:30 p.m.
Springfield Site: Corner of Court Street and East Columbus. Assembly at 3:30 p.m.
Notes: Sign design and construction underway. Wisconsin flags shipped overnight delivery!"
If you live in the cradle of liberty, this is a great opportunity to show solidarity with many, many common-sense taxpayers.