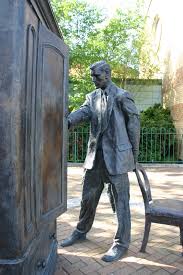 Oh, when children weren't discouraged from long stretches of purposeful peace and quiet ... memorable works of fiction were produced.
Once upon a time, Clive Staples Lewis, 'Chronicles of Narnia' author, wrote: "I am a product of long corridors, empty sunlit rooms, upstair indoor silences, attics explored in solitude, distant noises of gurgling cisterns and pipes and the noise of wind under the tiles. Also of endless books."
In the photos:
That's "The Searcher" sculpture, located in Belfast, which pays homage to Mr. Lewis (who was born in Northern Ireland) and his magic wardrobe.
Every fall, the small northern city of Petoskey, MI. holds an annual
C.S. Lewis festival.
Next month, the major-motion picture - "Voyage of the Dawn Treader" - is coming to a theater near you.
Mr. Lewis' Narnia lives on, but would have such an old soul, as he was, approved of the Hollywoodization and mass-media marketization of his enchanting stories featuring Aslan the lion?