Thirty years after my wedding, I finally got around to unpacking a set of dinnerware I received, as a gift, from the Ernesto Muñoz family.
Given that the set is now considered
"vintage,"
I'm not sure if this
is something old or something new
or both.
But I really, really like it, as it's dishwasher safe and ovenproof.
Looks like this: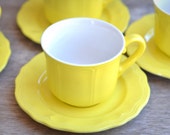 and this:
Made in Japan!